Slow Cooked BBQ Cuban Mojo Pulled Pork with Mojito Dipping Sauce
Ever since watching last year's hot movie Chef, we here at Latinolife have been craving a Cuban Sandwich and other Cuban delicacies. This Cuban twist on a crockpot pulled pork will knock the socks off of any dinner guest. It borders on the extravagant, but sometimes you want that pork to just fall apart and melt in your mouth. The combination of a Cuban mojo sauce marinade, combined with this smoked slow cooking technique will result in the most succulent pork, infused with a smoky sweetness with overtones of citrus. Serve with rice and beans, or perfect for pulled pork sandwiches. If you can't find the missing ingredients, see the link under the recipe for the best place to get them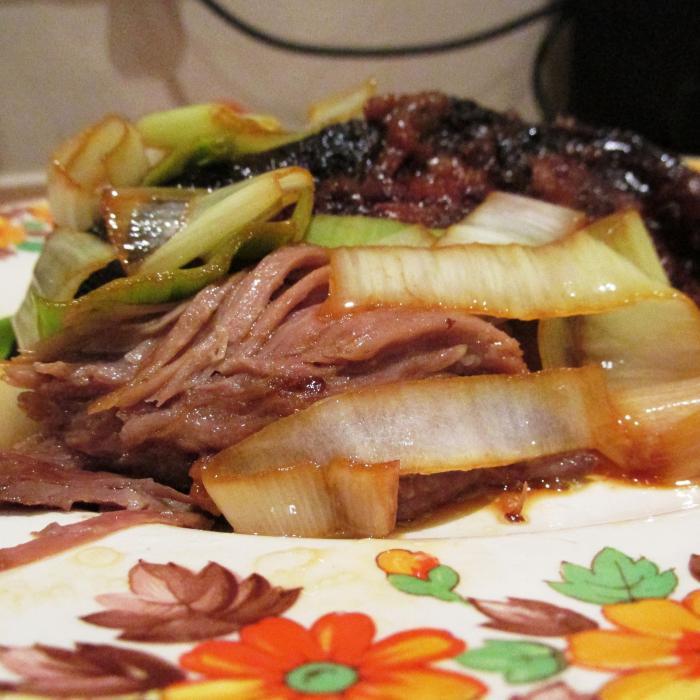 INGREDIENTS
3 cloves of garlic
2 tablespoons Adobo seasoning (½ teaspoon garlic granules, ½ teaspoon oregano, ½ teaspoon turmeric, ½ teaspoon salt, ½ teaspoon pepper)
1 bone-in pork shoulder (about 4 to 6-pounds), trimmed of excess fat
Salt and freshly ground black pepper
Mojo Criollo Marinade (alternatively use a bottle of Goya Mojo Criollo Marinade, adding orange juice)
1 minced onion
5 minced garlic cloves
1 teaspoon salt
1 tablespoon cumin
1 teaspoon black pepper
1 teaspoon white pepper
1 cup grapefruit juice
1 cup lemon juice
1 cup orange juice
½ cup chopped parsley
½ cup chopped cilantro or coriander
Combine all the ingredients to make a marinade
METHOD
Using a paring knife, make small slits over the entire surface of the pork and rub the garlic into the slashes.
Pour the marinade in a large bowl and add the pork and turn to coat, cover and in the refrigerator for at least 4 hours and up to 24 hours. (the remaining marinade will contribute to basting and your dipping sauce.)
Remove the pork from the refrigerator 30 minutes before placing in BBQ.
Season the pork with Adobo seasoning (you can also get this ready made at the below link)
Place seasoned Pork Shoulder in BBQ or smoker and smoke for 10-12 hours at a steady 110 Celsius (225° F).
Brush with the marinade during the last 30 minutes of roasting until golden brown and an instant-read thermometer inserted into the centre reaches 65.5 Celsius (150 Fahrenheit)
Remove from the BBQ and let rest 15 minutes.
Once cool enough to handle, shred smoked pork with your fingers or two large forks.
Mix in a few tablespoons of the remaining marinade and a squeezed orange to flavour the meat.
Serve with sauteed onions and leeks.
Mojo Dipping Sauce
8 cloves garlic
1 Goya Serrano Chile (a very spicy chilli indeed)
1 tablespoon Cilantro Paste or chopped 3 tablespoons chopped cilantro leaves
Salt
1/4 cup extra-virgin olive oil
1/2 cup orange juice
1/4 cup lime juice
Using a mortar and pestle crush the garlic and chilli and cilantro and slowly add the liquid.
Click on the links below for the following ingredients:
Goya Mojo Criollo Marinade, Goya All purpose Adobo with Pepper, Goya Serrano Chile, Cilantro Paste
All available at www.cubancuisine.co.uk
A book which tells the story of the Amazon and its ports-towns near...