By Reason, By Force: an interview with Chilean artist Mario Fonseca
Mario Fonseca: Conceptual Artist, Writer and Photographer talks about Chile today and how the Military Dictatorship (1973-1989) affected his work.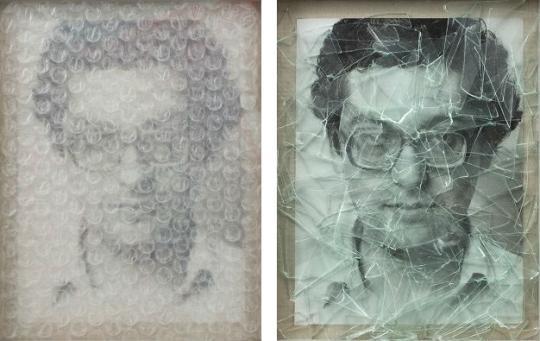 Chile's artistic output has been hitting the news big time this year. 'A Fantastic Woman' by Sebastián Lélio carried away the Oscar for Best Foreign Language Film. The Raindance Festival will be highlighting Chile as their 'Guest Country' in their festival later in the year and the Royal Court Theatre was host to Chilean productions such as Guillermo Calderón's 'B'.
Now, at the Austin /Desmond Fine Art, artist, writer & publisher, Mario Fonseca has been sharing an exhibition called 'Fragmented Dialogues' with compatriot Mauricio Valenzuela. (see review at http://www.latinolife.co.uk/articles/'fragmented-dialogues'-art-and-...)
Mario Fonseca is a complex, multifaceted creative artist. He has worked in graphics, Conceptual Art & photography as well as writing fiction and non-fiction. He also publishes magazines and books, some of his own and some of other authors. Most people find one career leaves them no free time, so here is an untypical multi-tasking man!
By his own admission, he has always been proficient in drawing and painting, but in the censored political climate during the Military Dictatorship if Augusto Pinochet, largely influenced by Alfredo Jaar, and in particular Joseph Kosuth, he started to work with photography and consciously introducing a more conceptual approach: -
"For sure, the incorporation of conceptual tendencies into Chilean Art during the 1970s. was facilitated by its being largely unintelligible to many. This protected the artists from the persecution and censorship suffered by those who worked in a language that was more accessible, in effect, many of those artists ended up in exile or they had to stop working in that line. That's why it's said that the censors didn't worry too much about Conceptual Art, precisely because 'nobody could understand it'! I was searching for a language that suited my technical abilities, even incorporating photography that I had been developing since the 70s… "
The turning point for Fonseca was his friendship with Alfredo Jaar with whom he had studied film. Later, he was to back his first solo exhibition: -
"This pushed me to create the first works that were to become an integral part of the 'Habeas Corpus' exhibition- some of which have been in the 'Fragmented Dialogues' exhibition at Austin/ Desmond Fine Art in London. I decided to create the works in a 'desk' format to avoid having to make excuses for the lack of an adequate atelier where I might have been able to create larger works. Relevant to the subject matter, I chose to directly interpret the internal and external pressures that living under a dictatorship represented to me. Had the political situation been different, I would probably have chosen to work with certain global issues, some of which I touched on in 1982-83. For instance, in the 'Habeas Corpus' exhibition I included a video: 'Song of the humpback whale' that refers to the destruction of nature by man."
This is very relevant, because Conceptual Art is defined as an art for which the 'idea' behind the work is more important than the finished art object. It is a cerebral, thoughtful form of art that questions and challenges the observer to participate. You cannot just look at the creation and 'know, or understand', the object challenges you to work it out, to think. It is often ironic and has an underlying humour. This is not an art form for lazy people!
In the 70s in Chile, Fonseca found himself influenced by a number of artists, including David Hockney, Pop Art, and especially British Pop. He also was interested in the Nouvelle Tendance and the Kinetic art movement, in particular, certain conceptual aspects, such as the multiplication of the work from an original.
Mario Fonseca still works with photographic images, but he now concentrates on more literary forms of expression, being passionate about Haiku, a Japanese poetry format. So, about 6 or 7 years ago, he started to write Haiku poetry fascinated by the obligatory brevity and strict formal structure, in which one has to try to convey something! This format is created from only seventeen syllables, in three lines of five, seven and five respectively. Yet in this brief structure, traditionally evoking images of the natural world, there is massive scope for thought: -
Tantos Artistas
Hoy viajan en business class
El arte a pie.
(Mario Fonseca)
(Many artists do
Travel now in Business class
Art is left standing)
"I have always been attracted to the written word. Gradually, I have been using it more and more to express my 'ideas', while I use the visual arts to express my 'emotions'. During that experimental conceptual period of my visual work, between 1979 and 1983, I utilized this distribution, giving the visual works a stronger ideological role, meanwhile I was also writing poetry. So, although nothing can be totally precise, since the mid- 80s, I started to write fiction, where I deposited my social concerns, while still continuing to use photography to express my feelings."
Thus it is that Fonseca has been editing two magazines. One that he restructured totally and another that he founded from scratch. There he found he could disseminate mostly cultural ideas, that had a greater importance during the dictatorship as they represented a strategic space, where at the very least, it was possible to obtain a little critical culture, aimed at interested individuals, even if they were not necessarily well-prepared [ to understand it all], He founded two publishing companies and brought out a number of books of his own and others, including a book of poems of Raúl Zurita and a book by Ronald Kay. He has written non-fiction books on commission, biographies and Institutional histories, for instance. Having something of a passion for research, this interest has resulted in fascinating results, such a book on a wine-producing dynasty, that has been productive since the 19th century and a book on the life of a mining and industrial entrepreneur from early 20th Century Chile.
Under the pseudonym Beltrán Ferrer he published a series of books: -
"These are contemporary stories, one group about dangerous situations that arise when faced with actual events and the other about a group of women in the 1930s who are faced with the dilemma between their careers and their lives as wives and mothers… typical conflicts that arose in Chile during the 1980s. I chose to use a pseudonym because it was the first time I was delving into fiction. Later I dropped it. I admit I have started two novels that are not progressing… "
Although it is now ten years since he created any 'visual' works, his graphic art continues in the logos of several prominent companies. Also, only a year ago, he had a large retrospective exhibition ['Reflejo Involuntario', (Involuntary Reflexion) 2017] at the new modern Museum in Santiago de Chile which gave him great satisfaction: -
"I am now preparing an investigation on the life and work of my maternal grandfather who was Bolivian. I never knew him as he left for Mexico and the United States in the 40s and never returned. Shortly before he died in 1989, in La Paz, Bolivia, I found all his cinematographic and musical works. Then just a few weeks ago, in Corpus Christi Texas, I was able to see the second part of his works in a museum that had preserved it, together with the works of his second wife, an important North American painter. So, it turns out that now, I am the person who knows the most about the trajectory of his life and will have to dedicate myself to rescuing and disseminating his 'ouvre', putting my own to one side for a while, but I am certain it'll be worth the effort."
The family connection continues as Mario Fonseca's reply to what had given him the greatest satisfaction in his whole life, was that the greatest joy in his life will always be his three daughters, of 46, 20 and 11 years of age.
For more information on Mario Fonseca see: -
https://www.cf-lart.com/mario-fonseca/
A book which tells the story of the Amazon and its ports-towns near...