Gizane's Feijoada
The ultimate comfort food, and perfect for a British winter; the feijoada is a hearty stew of pork, jerk beef, black beans, heaps of garlic and other things that bubbles for hours on low heat. Every cook includes their own twist, but the one my mum makes is a winner, with orange zest and a shot of cachaça. It's a dish you prepare in large quantities, for a huge gathering, be it with family, friends or strangers. I met one of my best friend's at a feijoada held at a warehouse in Rio, where I was passing by one Saturday afternoon and, seeing a group performing samba, decided to walk in. I didn't know anyone there, but I danced all afternoon and evening, drank vast amounts of caipirinha, ate like a pig and ended up in another party. There is nothing more carioca than meeting your BFF at a feijoada!
by:
Gizane Campos, founder of ComidaFest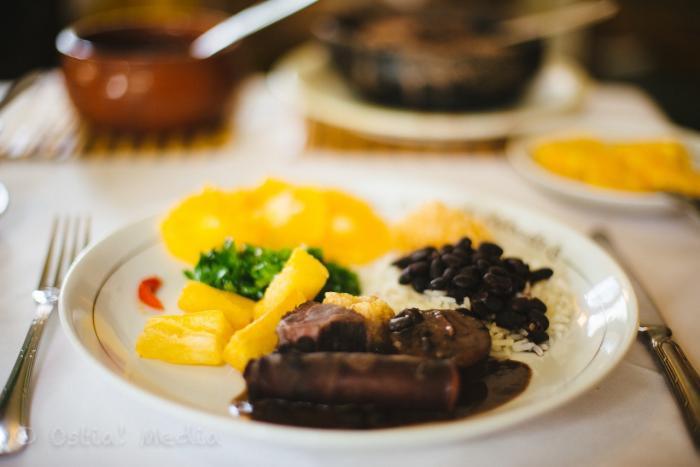 Serves 8-10 people
Ingredients:
1kg dried black beans
400g sun-dried beef, cut into pieces or 400g of smoked pork ribs
400g of smoked bacon cut into chunks
8 tbsp olive oil
2 onions, finely chopped
6 garlic cloves, finely chopped
300g large smoked sausages, cut into big chunks (Portuguese sausage is best but chorizo is a good alternative)
300g small Portuguese spicy sausage or n'duma (regular sausages will suffice here if neither spicy versions can be found)
400g salted pork ribs (or any other cut of pork on the bone from the butcher)
1tbsp freshly ground black pepper
5 bay leaves
1 orange, peeled, whole
1 shot of cachaca (optional but recommended)
1 orange to serve, peeled and segmented
Cooking instructions
In separate bowls, soak the beans, the sun-dried beef or smoked pork ribs (whichever you are using) and the smoked bacon in cold water, overnight. Change the water in the morning and leave to continue soaking to get rid of excess fat and salt.
Drain the beans and put them int a very large saucepan of cold water. Bring to the boil over medium heat, then simmer for 30 minutes until soft
Rinse the soaked sun-dried beef (or pork ribs) and smoked bacon well, add to the beans and cook for a further 30 min
Meanwhile, heat a very large, heave saucepan and pour in the olive oil, so it entirely covers the bottom of the pan. Add the onions and garlic and cook until softened. Add the sausages, salted pork ribs, black pepper and bay leaves. Pour in the cooked beans and meat and top up with water to cover them. Place the peeled orange in the centre of the pot. Let the stew simmer for 1.5-2 hours or more, topping up with water as necessary, until the meat falls off the bone. Just before serving, fish out the bay leaves, the orange, add a shot of cachaça and serve with orange segments and boiled rice.
Gizane runs www.comidafest.co.uk
A book which tells the story of the Amazon and its ports-towns near...