Carlos' Tres Leches
It's one of Latin America's most-loved deserts – a sponge cake made with condensed milk, evaporated milk and whole milk. I was recently working at my restaurant when I looked up to find the comedian Romish Ranganathan ordering a Burrito. I'm a big fan so I expressed this by giving him my favourite desert of all time. A couple of months later the BBC called me telling me Romish was a vegan, but had found me so friendly he couldn't bring himself to reject my cake. He had asked them to ring me to come on his programme "Would I lie.' So I went on the programme and had a blast, thinking this is all down to the good vibes produced by the Tres Leches.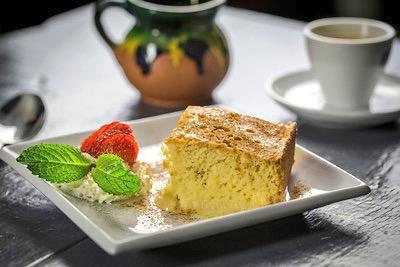 Ingredients for 12 Pieces
EGG 6
SUGAR 300g
FLOUR (self-raising) 260g
BAKING POWDER 3g
VANILLA ESSENCE 30ml
EVAPORATED MILK 410g
CONDENSED MILK 397g
WHOLE MILK 410g
METHOD
1) Preheat the oven to 180c
2) Put the egg white in a mixing bowl and mix with a whisk for about 1 minute, do not over whisk or allow to become frothy
3) Add the egg yolk and mix for less than a minute.
4) Whisk continuously gradually adding the vanilla, sugar, flour and baking powder in this order.
5) Grease a baking tray, pour in the mixture, cover with a lid and bake in the oven for 30 minutes, remove the lid and bake for another 15-20 minutes to brown the top of the cake.
6) When it is ready a skewer inserted in the middle of the cake should come out clean.
7) Remove from the oven and prick holes all over the top of the cake with a fork.
8) Place the 3 types of milk into a blender and whizz for 30 seconds.
9) Pour the milk mixture from the blender over the cake and allow it to seep in. It will look like you have too much liquid but don't worry as the cake will quickly soak it up.
10) Cut the whole cake into 12 slices cover it, label it and keep it in the fridge at all times
To serve and garnish the tres leches cake see the photo on the kitchen wall
Carlos manages Benitos Hat, where he serves his Tres Leches desert www.benitos-hat.co.uk
A book which tells the story of the Amazon and its ports-towns near...