Stars of Summer '18
As part of our series of profiles on the Latin American, Spanish and Portuguese teams who have qualified for this year's World Cup finals, Lewis Blakeman picks out the players he expects to star on the world's stage this summer.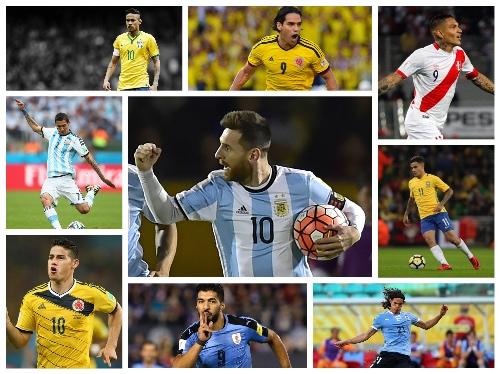 Edinson Cavani - Uruguay
Having played in the shadow of Zlatan Ibrahimović for much of his time at Paris Saint-Germain, Cavani is undoubtedly one of football's most underrated strikers. When finally given the chance to spearhead the PSG attack for the 2016/17 season, Cavani scored an incredible 49 goals in 50 games, and already has 33 goals to his name for the current season. His strength, speed, heading ability, and lethal two-footed finishing make him the ultimate forward, with the ability to single-handedly win a game for his side – something Uruguay will certainly look to exploit in tight game situations.
Philippe Coutinho - Brazil
After joining Liverpool from Internazionale in January 2013, Philippe Coutinho gradually developed into one of the world's best midfield players - prompting FC Barcelona to spend upwards of £105 million to bring him to the La Liga club five years later. He has the skill and awareness to find space on the pitch, and the vision and control to pick out the perfect pass for his attacking teammates. In addition, his long-range shooting makes him a danger for opposition defences even when 30 yards from goal.
Ángel Di Maríá - Argentina
With an abundance of attacking talent in his Argentina squad, manager Jorge Sampaoli faces the tough task of picking who best to pair alongside Lionel Messi in the Argentina frontline. Di Mariá's versality may well be the deciding factor, with the skilful left-footer able to operate on the left wing, in behind the central striker, or cutting in from the right side. He offers width to an Argentina team who too often in the past have tried to play through the middle, and may be able to stretch tired defences in the latter stages of the tournament. He is quick, skilful, creative and has an eye for goal. If played in the right formation he could well be a stand-out performer in Russia.
Radamel Falcao - Colombia
'El Tigre' was arguably once the greatest striker in the world, scoring an incredible 70 goals in just 91 games for Atlético Madrid between 2011-2013. Despite being just 1.77 m tall, Falcao has the ability score great goals with his head, as well as being a deadly finisher with both his left and right foot. Following a tough two injury-plagued years playing in England, 'El Tigre' has rediscovered his club form with AS Monaco, averaging better than a goal every other game. His 29 goals for Colombia also make him the nation's leading goal-scorer– a tally he will hope to add to this summer in a World Cup group alongside Poland, Japan and Senegal.
Paolo Guerrero - Peru
After qualifying for their first World Cup finals since 1982, Peru were hit with the devastating news that star-striker Paolo Guerrero would be ineligible for the summer showcase after testing positive for performance enhancing drugs. Fortunately this ban was reduced upon appeal to just six months, making Guerrero eligible for the 2018 World Cup. The highlight of Guerrero's club career was undoubtedly his winning goal in the 2012 FIFA Club World Cup Final for Corinthians against Chelsea; while at international level he has finished as top scorer in the 2011 and 2015 Copa América tournaments, leading Peru to third in both. His strength and finishing ability will make him a threat against any team who face Peru at this summer's World Cup.
Javier Hernández - Mexico
Just last year, Javier 'Chicharito' Hernández surpassed Jared Borgetti's record of 46 international goals for Mexico; but after a difficult season in his return to English football, some fans are now concerned about Hernández' effectiveness to lead the line for 'El Tri' at this summer's World Cup. The hope is that 'Chicharito' will be more suited to Mexico's style of play than that of struggling West Ham, with Juan Carlos Osorio's side looking to exploit Hernández' off-the-ball movement and goal-poaching ability. Hernández' leadership from the front will be instrumental in any success Mexico are to have as they seek out that bit of magic to unlock opposition defences.
Lionel Messi - Argentina
In what may well be his last World Cup finals appearance, Lionel Messi will be more motivated than ever to get his hands on the one trophy that has eluded him the most - and by virtue, to cement his place as the undisputed greatest of all time. Despite a phenomenal club career in which he has broken almost every record imaginable, Messi's record at international level remains the one thing that separates him from the likes of Maradona and Pelé. That being said, his 61 goals make him Argentina's leading goal-scorer, and the days of one player leading their team to World Cup success are long gone. If Argentina are to win their first major title since 1993, manager Jorge Sampaoli will need to find a way to spread the workload among his highly talented squad, and grant Messi the freedom to play without pressure for 'La Albiceleste.'
Neymar - Brazil
After injury ruled him out of the latter stages of the 2014 World Cup in Brazil, Neymar will go into this summer's tournament with a point to prove. His shootout-winning penalty in the 2016 Olympic Games final has shown that Neymar has the strength to carry his nation, while his 53 goals in just 83 games for Brazil mark him as one of the deadliest forwards in world football. Neymar possesses technical ability matched by few other players on the planet, with the skills to beat any defender. It's no wonder that Paris Saint-Germain were willing to splash out €222 for the young Brazilian during last summer's transfer window!
James Rodríguez - Colombia
Despite Colombia's elimination at the quarter-finals stage, James Rodríguez was the star of the 2014 World Cup. His six goals won him the 'Golden Boot' award; while his wondergoal against Uruguay was chosen as the 'Goal of the Tournament.' His ability to control the midfield and play key passes into the strikers will be fundamental to any success Colombia are to have during this summer's tournament. With an eye for goal, and precision from set-pieces, Rodríguez is the ultimate 'danger man' to trouble opposition defences.
Luis Suárez - Uruguay
2014 LUKAS award winner Luis Suárez has gone from strength to strength since his time playing in England with Liverpool. Now at FC Barcelona, Suárez has continued the goal-scoring form that enticed the La Liga side to pay upwards of £64 million for the Uruguayan – scoring 106 goals in just 122 games. His 50 international goals make him Uruguay's leading scorer of all time; though with just eight more goals to his name than strike-partner Edinson Cavani, it will be interesting to see who ends their career on top! Strong with both his left foot, right foot and head, Suárez is a natural finisher, while his assist numbers are also hugely impressive.
In the POPUP SCREENS only last Friday (Aug 17) the lovely Mexican...
When I was a child, we used to go every Sunday to visit my grandma,...