No Clowning Around
Vladimir Brichta's striking good looks and palpable on-screen energy had already made him a household name Brazilian television, from mini- series to hugely popular novellas (long serials). But now non-Brazilians can enjoy these delights as he stars in Brazil's latest movie hit and Oscar offering 'Bingo: The King of the Mornings' (Bingo: O Rei das Manhãs). Corina Poore meets up with the dashing self-declared 'Bahiano' (brought up in Salvador, though born in Minas Gerais) and discovers a presence to warm up any dreary Soho winter's morning.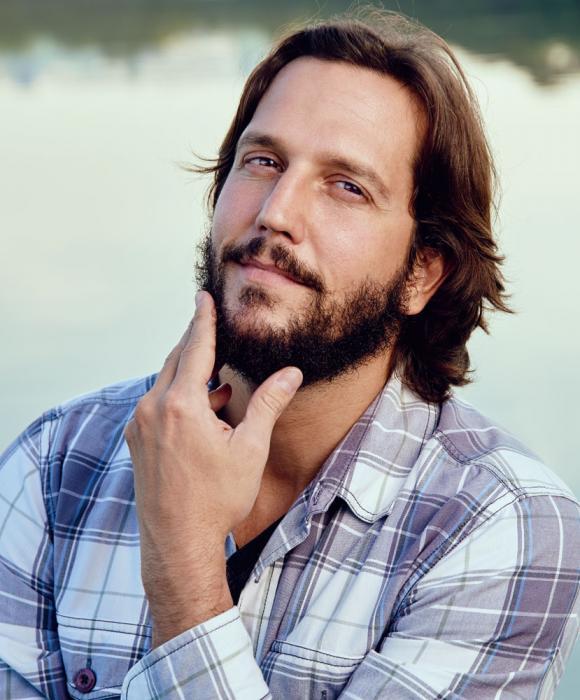 I meet up with Vladimir Brichta and the film's producer Dan Klabin at the Charlotte Street Hotel, only a few days before the film is premiered here in London. They are both energised by the rave reviews, and there is a visible sense of disbelief that they are sitting in London discussing the film, especially when Brichta's opportunity to star in 'Bingo', came about 'just by chance':
"It was a long story because this project started in 2010." Daniel begins. I showed Daniel " [Rezende, the Director] Arlindo Barreto's story, and he was like: 'Oh, let's do this film, it's a great idea!' That was in 2010. At that time Daniel was editing a movie with a very famous Brazilian actor called Wagner Moura, who said he loved the character and that he'd do it. So, the movie started back then, with Wagner. But, like in all movies, it took many years to be developed. You go into the script and then you go into, you know, raising money and all those things and, it took the best part of six years before we had enough money to make the film. During that process, Wagner was cast to play Pablo Escobar in Narcos [for Netflix] which broke our schedule and his own. He came to Daniel and he said: Look, I can't play, but I highly recommend Vladimir.
Then we had one of those moments of movie magic. It really was! Wagner was, at that time, at the height of his career, so losing an actor like him could have been disastrous! But, in the end, it was better, because of Vladimir's natural energy, his physicality and power on screen. It's one of those things that happen in the movie industry that you don't understand at the time… you know,, all of a sudden, you lose your main actor, but then something magical happens."
Vladimir says was initally doubtful about the role, but Wagner insisted: "You have to do it, you have to make this movie because it is the best script I have read in a very long time!"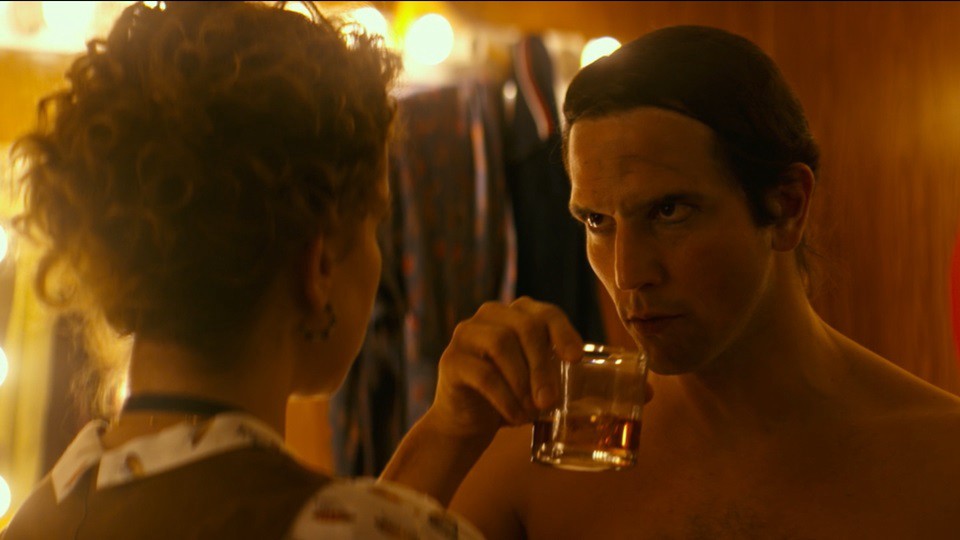 Of course nothing is really ever purely by chance. From his earliest years, Brichta says he always knew that acting would be his life:
"I never wanted to do anything else but acting...ever since I was a little kid. I studied Drama and Acting at University. All my life I always knew that it was my path, my passion. I lived in Germany when I was very young and my mother tells me that when I got back from school I would tell her that I wanted to be like the actors that I could see at the school [and on TV]. I would change my name and pretend to be someone else, I would say: 'I am no longer Paolo Vladimir, now I am Paolo Hans' … when you are very little, you start acting by imitating and doing impressions…from being a clown or an animal…"
Nevertheless, when it came to a rare opportunity to play a clown as lead role in a moajor film, Vladimir was concerned that he wouldn't be able to play a clown authentically: -
"The most difficult thing for me was to have to accept that I was playing a clown. I studied to be an actor, but not to learn [the skills] of a clown. I have friends who studied a lot [to excel in their chosen career], even my father who is a Geologist, studied for years to become what he was… also my sister, even my mother, they all studied a lot to develop their careers. I respect that a lot. And now, here I was playing a clown without having studied anything about it, so I felt very shy and timid! I say that now, out of respect [for clowns]. [Then] I started to think that all my life, I had always tried to use humour and improvise, so I thought, hey… this character will give me the opportunity to say: Yes! I can be a clown and it's definitively an intrinsic part of this role."
Still, what Vladimir found the most interesting aspect was that he instinctively felt great empathy for the character he was to play:
"The first thing that hit me is that he is an actor… and I am also an actor…my story, my life might be very different, but I understand that struggle to strive for success…to try to achieve it or even fame… as an actor it's something very close to us all, so for me it's very moving to portray an actor who suffers trying to achieve recognition for his talent. There is even a personal element as well, I had to understand that before being a clown, he was an actor, a father with a son and reveal who that character really is…
…I really felt a lot of empathy for the character as I have also been a father for about 20 years. I have a daughter who is 20 years old now. I became a father when I first started out on my career. So, I know what it's like not to be able to be close to your own child. It is very painful and it is a hard lesson to learn if you choose this type of road in your career, and often, I chose not take some jobs that were offered to me, just so that I could remain close to her … I know that weight, that difficulty between your career and your personal life. "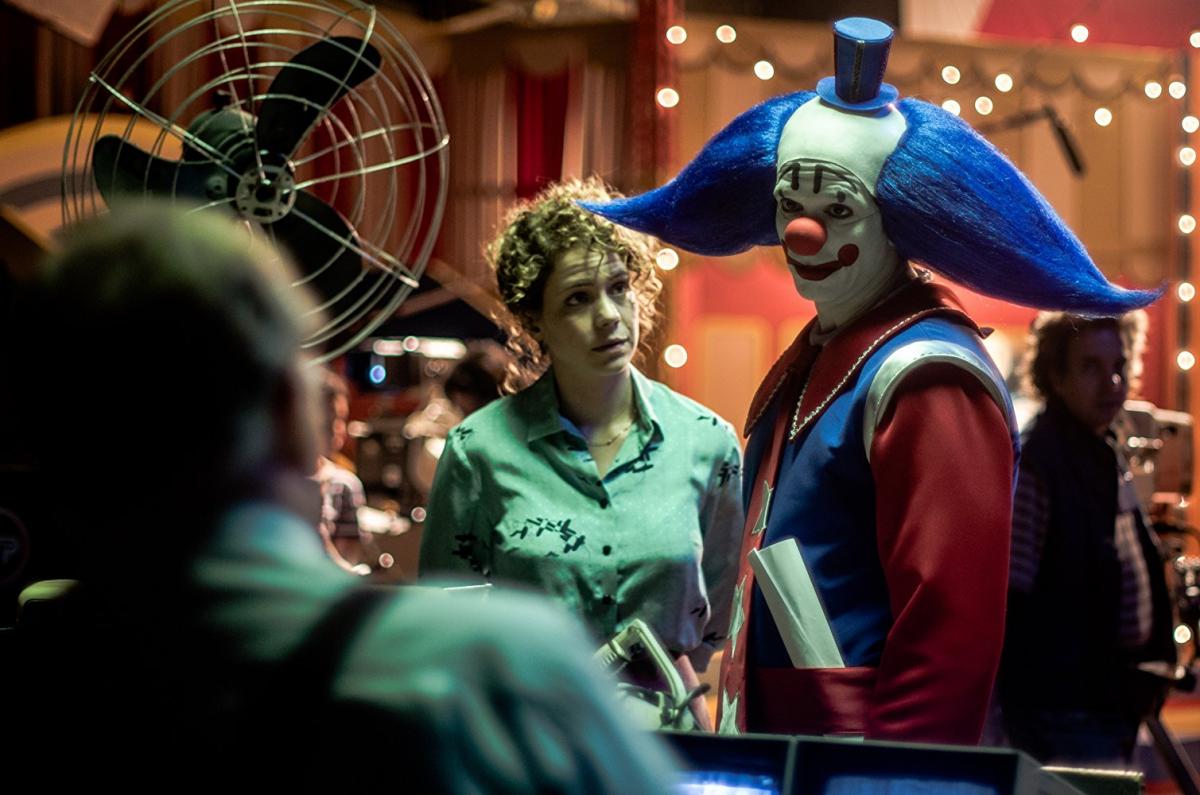 Brichta had to work at being a clown, it was not an overnight discovery so he spent time working in a circus to learn some of the trick of the trade:
"Yes, I went to a circus and we played a scene. I had to wear my clown mask, because, in Brazil, I am well- known for playing parts in many TV series and soaps [novellas], far more so than for my film roles. Also, I have played in a lot of comedies. So, then I asked myself if the public who saw me in the circus, would they laugh because I'm a well- known actor that they recognize from playing in comedies, or would I be unable to make them laugh if I wore the clown mask? This was the question in my head. I had no idea if it would work when I was in costume- the opposite of Augusto in the film. Then I went to the circus with the mask, before we started filming, and I tried experimenting… and it went really well and at that moment I was able to see that … yes… I could be a clown!
Playing such a role can be very physically demanding, yet this was one aspect that Vladimir Brichta took to, like a duck to water:
"When I started to act at school and in the theatre, I was very tense… I would argue with my colleagues all the time. Doing theatre helped me to channel my [excessive] energies. During all my life, I have liked to clown about and joke [for fun], and [usually] I had to learn to control that, but now, with this character in Bingo, [Augusto Mendes}, I have had the opportunity, once again, to let that same energy pour out, which I think it is very me, it definitely comes from within me! [laughs]"
Despite the cold winter morning, both Vladimir Brichta and Daniel Klabin were feeling energised by the positive reactions that their film has produced back home and here in London. Bingo: The King of the Mornings has received rave reviews, as Dan Klabin pointed out: -
"It was a really amazing experience to see how people really embraced the film every time we showed it. At the end people would come up to us and talk to us, they wanted to talk about their childhood, their lives, what it, [the clown programme] had meant for them at the time. [How it still resonated] how they loved the movie and how it had made them reflect about their own perspective of life. How from a child growing up in to adulthood and their maturity, you know, seeing the same situation through different eyes?"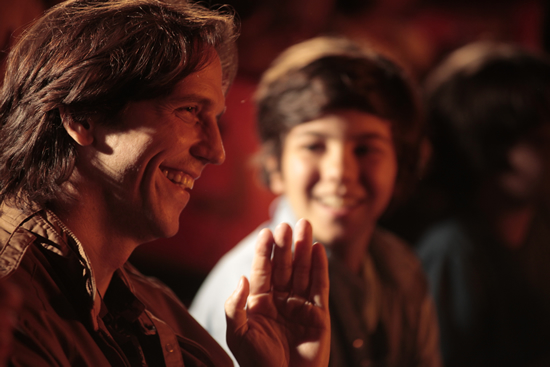 Interestingly, Brichta is particularly effusive and complementary about the experience of working with Director Daniel Rezende. This was Rezende's first outing as a director as his fame has always been as an editor on the most important productions to have emerged from Brazil. These include the famed Fernando Meirelles' City of God (2002), José Padilha's RoboCop (2014) & Elite Squad (2010), as well as Terence Malik's Tree of Life (2011), to name but a few.
Brichta explains why: -
"You would never have known that it was his first time, it did not seem so. He knows so much about cinema, about camerawork, about rhythms, the whole language and [surprisingly] he knew a great deal about working with actors. This is not something we expected. He started out as an editor with very little experience of working on set, and yet he has been the director who has been most involved [with the actors]. He gave me really useful guidance [and opportunities]. He would come right up close and say; We are going to do this… this is good… I'm not sure how we will do it, but see if you can come up with something different. I have only ever had an experience like this in the theatre, working with directors and never in television."
Despite the possibility of a more international profile that could result from his wonderful performance in Bingo: The King of the Mornings, Brichta is not eschewing his love of working in Brazil. He will be staring with his wife (Adriana Esteves) in a new novella which will be shot in the stunning area in Bahia, around Trancoso, which is near his childhood stomping grounds: -
"I have been working on a TV project... a novella… and it will be broadcast in my area, [Bahia]. It is called: 'De volta pra casa' (Home Again 2017). I will be working with my wife, for the first time in many years, and it is written by the same author that wrote the single most successful novella in the history of Brazilian TV. [João Emanuel Carneiro]. It is a novella called 'Avenida Brasil' (Brazil Avenue 2012). Out of all the novellas, it has had the best worldwide sales. It was sold to almost 200 countries, it's one of the best productions to come out of Brazil and my wife [Adriana Esteves] was one of the protagonists. This new novella is an opportunity to work with Carneiro, as well as with my wife once again. It takes place around the city where I grew up."
Novellas are extra-long serials that are phenomenally popular in Brazil, so it could be a great loss to them if Brichta was wafted away to the international film scene. Vladimir Brichta brought humour by the bucketful as well as profound pathos to the role of Augusto Mendes (Bingo), in Bingo: The King of the Mornings. These are qualities that are bound to be picked up in international film circles. A talent that, doubtless, has still got a long & successful road ahead.
Bingo: The King of the Mornings is now being screened at Reel cinemas across the country, Rich Mix and Première Cinemas.
A book which tells the story of the Amazon and its ports-towns near...