BINGO- KING OF THE MORNINGS (Bingo- o Rei das Manhãs) Dir. Daniel Rezende
Already picked to represent Brazil at the Oscars, this tear-jerking, heart-warming, inventive and adventurous movie is a delightfully politically-incorrect breath of fresh air, says Corina Poore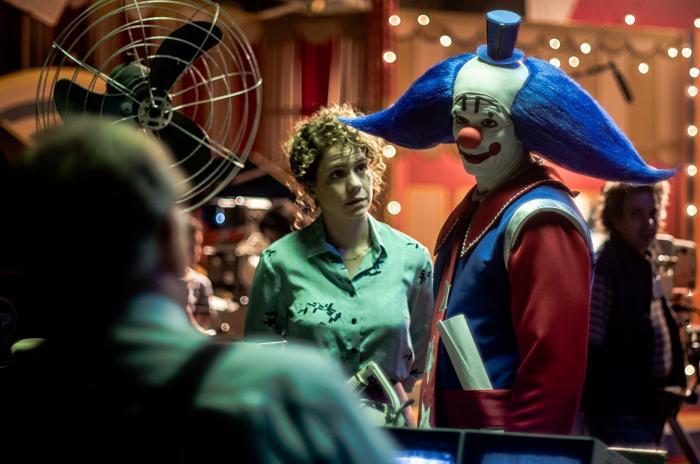 Daniel Rezende's 'Bingo:The King of the Mornings' is based on the true-life story of Arlindo Barreto who, despite performing in soft porn movies to makes ends meet, dreams of following in his famous actress mother's footsteps. Augusto Mendes, (Vladimir Brichta) never ceases to try to be a serious actor; he searches desperately for the limelight and by chance manages to grab the opportunity to play BINGO, a TV host clown on a children's show in the 1980s. The film deals with the consequences on his personal life.
This film is intense, raw, and in your face. As a result, we get so close to the characters that there is an intimacy which results in a great deal of empathy. Augusto is forbidden contractually from disclosing his true identity, which he finds excruciatingly hard, as he has to stop even his own son, Gabriel, from revealing it. Augusto's fame pulls him further and further away from his much-loved son, who, in turn, sees nothing but a distant father and not a celebrity. This is a universal theme, Augusto gets so caught up in his 'duties' as a clown, that he ends up entertaining and helping all children, except the one that is most important, his own son Gabriel.
Augusto Mendes as Bingo the Clown proves to have a magnetic, charismatic personality with a sharp wit. Brimming with ideas as to how to change the rigidly boring scripts of the show, he turns out to be, not only brilliant at improvisation, but extremely funny, and takes the show to unforeseen heights, beating all the rival TV show's ratings. These children's shows in the 1980s, run by small family-owned TV channels, would often continue endlessly if the show was on a high, from an average of 4 hours to up to 10 hours non- stop! NO unions to worry about then!
But, just as Bingo achieves this great success, his mother, whom he obsessively idolizes, dies. She had been a famous 1950s TV diva in her own right, who has now been 'forgotten', a fact Augusto finds painful and unfair. She was his anchor to reality and perhaps even a crutch to lean on.
Ariel Elia, one of the film's producers from Empyrean Pictures, with whom I met up to talk about the production, says:
"The show held its top position for close on 10 years. He [the original clown, Arlindo] took it to the top heights and we, the film makers believe that he was the best [clown] of them all, with many, many followers. In the film, we wanted to stress how close he was to his mother and how devastated he was by her death. He always described that moment as the pivotal point in his career and in his life, where it took a turn for the worse."
The film is almost surreal in its depiction of the backstage world of Brazilian Television in the 1980s. There is irony and humour, with an over- the- top intensity that keeps us right there with the character as he falls apart with visceral intensity. Vladimir Brichta is truly superb and charismatic as Augusto, eliciting deep emotional reactions as his character loses control and becomes lost in a world of sexual, alcoholic and drug-filled orgies with no direction or clear purpose. All the while, he somehow manages to remain a phenomenal success on the TV screen in his role as the clown. The irony of the situation is not lost on him and throughout this pain, we cannot but help wishing we could leap into the film to help him. Such is the effect of the good storytelling, that we care what happens to this disintegrating character. Some have criticized the film for not delving into the "psychological agony of being famous without anyone knowing your name". I disagree, as we can see how he is often humiliated, as no one can recognize him without his mask, forcing him to live in a surreal limbo between massive success and total anonymity.
Vladimir Brichta has prized the role of Augusto Mendes and made it his own, proving to be a top talent, though, as fate would have it, it was largely chance that gave him that opportunity; -
The Producer Ariel Elia: -
"The original actor [Wagner Moura, one of the most popular Brazilian actors] was supposed to portray [Bingo] but he left to do NARCOS [for Netflix]… to play Pablo Escobar…he left because it was, of course, a much bigger project, set up by José Padilha, who directed 'Elite Squad' (2007). Wagner… had worked before with two other close friends of his and one of them happened to be Vladimir. He recommended him and we immediately loved him because he was …is …the perfect fit. WE would say an even better fit … he has the physicality and he has the emotions. It has been the biggest film in his career and he enjoyed it very much. Perhaps, in a way, he had been overshadowed by his best friend and this was a great way to break away from that shadow and also, break away from being the struggling actor and have a chance to shine on the big screen."
Much of the strength of this film lies in how the excellent cast is drawn and how they interact. There is a freshness and a unique spontaneity. The core of the crew of this production have worked together before and it shows in the quality of the resulting film. Daniel Rezende, the director, has achieved fame for having edited the most important Brazilian films from the last 15 years, including 'City of God', 'Elite Squad' and 'Terence Malik's Tree of Life'. Lula Carvalho, the cinematographer comes from a cinematographer's dynasty in Brazil. Lula Carvalho and his father Walter are considered the best DOPs to have emerged from Brazil in the past 20 years.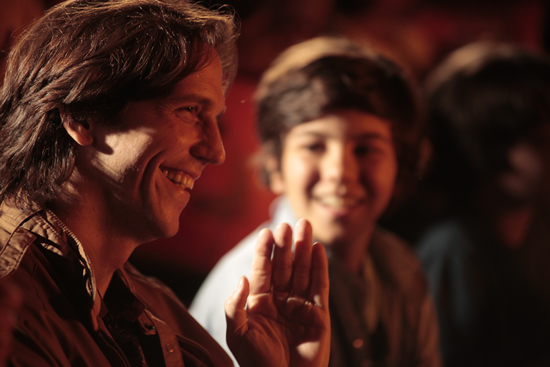 Producer Ariel Elia: -
"The collaboration and the love between the cinematographer and the director really shows., I believe the camerawork, which I personally pay a lot of attention to, as well as the cinematography is effortless & helps tell the story in a meaningful way. No camera movement is unwarranted. Everything that is on screen has a purpose. From a director's perspective. I have seen the film dozens of times and I still don't tired of watching it, it's fantastic."
There is a wonderful long continuous tracking shot that everyone is raving about, it ended up being a seamless combination of actual live footage, a model and digital effects. The result is superb, as producer Ariel Elia explains:
"We had a model of the hospital, the city shots were São Paulo itself, shot with a drone. That one long shot was actually three shots that were stitched together digitally. The first part being in the apartment when he punches the television, all the way to us going out of his window. That was the first cut. Then we had the drone footage flying around the city of São Paulo, and then into the hospital [which was the model] – There was, in fact, no window. It was a fake so we could go right through the window. That's how that was achieved. A little bit of movie magic!"
The 1980s was not a time for political correctness anywhere, let alone Brazil. Today, it may seem strange to see an attractive young woman in minimal clothing dancing provocatively on a children's programme. At the time of Bingo, there was a competing programme on another channel with a very popular, blond, blue-eyed young woman, who chatted with children and danced with them as well, to the children's delight. This was and is Brazil. It is important to see these elements in context. These young women were not aiming to be titillating or lascivious. Body image is like a cult in Brazil with men as much as women, and the body is not only to be seen as desirable. It runs far deeper than that, possibly harping back to some African roots. It is closer to a sheer love of the body with unaffected enjoyment, perhaps even a form of worship of its beauty, a matter of being totally in tune with one's own physicality. As Ariel Elia points out: -
"… it comes from a place of appreciation of the human form and from a young age, being conditioned to understand what a man's or a woman's body is like. A definite shift in mentality from more puritan views! So often, when you are deprived of something, and I'm not saying it is the reason, but you start getting things like the whole Weinstein scandal and its ramifications."
This open attitude is a (delightful) cultural thing in so many ways. We have just been witnessing members of the Zimbabwean Parliament ecstatically dancing in their parliamentary chambers with jubilation in a spontaneous expression of joy. Try to imagine the members of the House of Lords dancing and wiggling their bottoms in jubilation! It really is another way of experiencing life… we would be lucky to get some enthusiastic calls of 'Hear, Hear!' and we're probably the sorrier for it too! So, to understand how things were perceived in Brazil in the 80s we need to have both perspective and context.
Arlindo Barreto, (the original clown), eventually became an evangelical preacher, influenced initially by his wife, but with a notable difference:
"…more than anything else, he's proud of the fact that his story is being told… the recognition… that he seeks in the story of the film, and never fully got because of his contractual need to hide behind the mask … Now, he entertains his congregations [instead], which I find fascinating and he entertains his congregation dressed as a clown, preaching God's word and making people laugh. He is doing what he feels is God's work and doing good for the world. I see it in a similar manner. It is a very positive thing… and at the end of every show he takes off the mask and reveals his identity just like in the final scene of the film."
This film is not a biopic, it is fiction, as the original clown, Arlindo Barreto has said, 'all these things took place just not in the way you see them on screen'. Take your tissues for there is much sadness in this movie despite the many laughs, Original, and inventive, this adventurous and politically incorrect movie is like a breath of fresh air!
Bingo:The King of the Mornings will premiere on December 13th 2017 at the Curzon Cinema, and then be availabe at Reel Cinemas across the country, Rich Mix and Première Cinemas,distributed by Warner Brothers.
Director: Daniel Rezende
Writers: Luiz Bolognesi- Fabio Meira
Cinematography Lula Carvalho
Music Beto Villares
Editor Márcio Hashimoto Soares
Producers: Fabiano and Caio Gullane, Joshua Skurla, Dan Kablin and Ariel Elia Empyrean Pictures & Warner Bros.
Cast
Bingo/Augusto Mendes Vladimir Brichta
Gretchen Emmanuelle Araújo
Fono do Circo Raul Barreto
Armando Pedro Bial
Lucia Leandra leal
Angelica Tainá Müller
Producer on screen Soren Hellerup
A book which tells the story of the Amazon and its ports-towns near...