'FRAGMENTED DIALOGUES': Art and Identity in 1980s Chile
Corina talks to the curator of a fascinating exhibition of the work by two Chilean artists, Mario Fonseca and Mauricio Valenzuela. It is on at Austin/Desmond Fine Art till 30 June and explores both the fragmented and silenced memories of the years under Pinochet dictatorship.
When English art curator Emily Austin was introduced to two Chilean artists Mario Fonseca and Mauricio Valenzuela, by Chanal Fabres of CF- LART, she was struck by the fact that despite coming from completely different backgrounds, (Fonseca, from a Conceptual Art background, and Mauricio Valenzuela, a photographer) and that neither of them knew each other in the 1980s, they still shared a strong common thread of an 'absence' or a 'prohibited identity'.
"I found it so interesting that these two artists, who never knew each other, were both dealing with the same issue… and I liked the fact by that they are also completely different and we are bringing them together at the gallery for the first time." says Austin.
Chile was under Military rule by General Augusto Pinochet from 1973-1990. People living in countries traumatized by dictatorial regimes have suffered in silence for decades. It is sometimes hard to think that they could ever truly recover. Parents, children, friends were imprisoned or chased into exile, sometimes they simply disappeared and were never heard of again. Sometimes traces, 'fragments', like bits of a finger or a toe have been found after painstaking searches.
In this brutal climate, artists and photographers took on a particular importance, being the only ones who dared to challenge the status quo. Emily Austin points out that although artists like Mario Fonseca also took risks, it was the photographers that were the most endangered species, being actively sought out by the regime, which resulted in Valenzuela being detained and incarcerated three times: -
Emily Austin: - "The role of the photograph became essential to Chilean art, the documenting of the reality and the recording of it. Of course, they had very little money for film, so that each photograph became very important. Then, to develop this work was equally dangerous… I have always been interested in this period from Latin America- with its common thread of memory and absence of identity."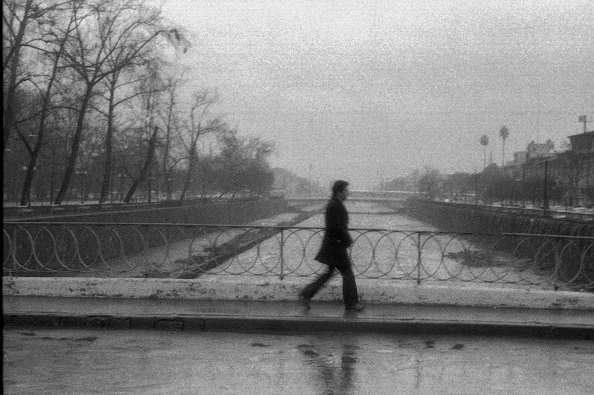 Mapocho by Mauricio Valenzuela
South America is a continent that has been blighted by this type of brutality. Argentina during the Perón and Videla military governments, Brazil under the Military during the 1960s and 70s, Cuba under Castro, and Chile under General Pinochet to mention some. Each government, despite widely different political sympathies, firmly believed they were in the right and pursued their perceived opponents in violent and ruthless manners with little regard to human rights. Families can carry this kind of pain into future generations, in many ways reminiscent of the Holocaust. Not deliberately, but as if the cells themselves carried the memories on, and the ability to leave them behind being almost impossible, like never-ending sound waves that travel into infinity through the universe.
Many of the artists, working under these regimes, risked torture and disappearance because they were so profoundly motivated to defend their integrity and freedom. It is relatively recently that Chile has finally been experiencing a flurry of artistic expressions from all the arts, including theatrical works from playwrights like Guillermo Calderón & filmmakers like Pablo Larraín. Among the most poetic expressions being Patricio Guzman's stunning documentaries (Nostalgia for the light, The Pearl Button and The Battle for Chile).
Mauricio Valenzuela and Mario Fonseca however, did not wait for safer times and both refused to be silenced and continued to work secretly throughout those long & difficult years. As Paolo Bruscky from Brazil (who also struggled to work during the Brazilian Military Regime) has said:
"You need to find clever ways to express your ideas around the censorship".
So, it was that Mario Fonseca worked with members of the neo-Avant-Guard group CADA, (that included Paz Errazuriz and Alfredo Jaar), and, eventually encouraged by Jaar, experimented with Conceptual Art, producing works in mixed media and films. Visual artist, critic, curator, academic, writer, graphic designer and editor, Fonseca has always been a man of many talents.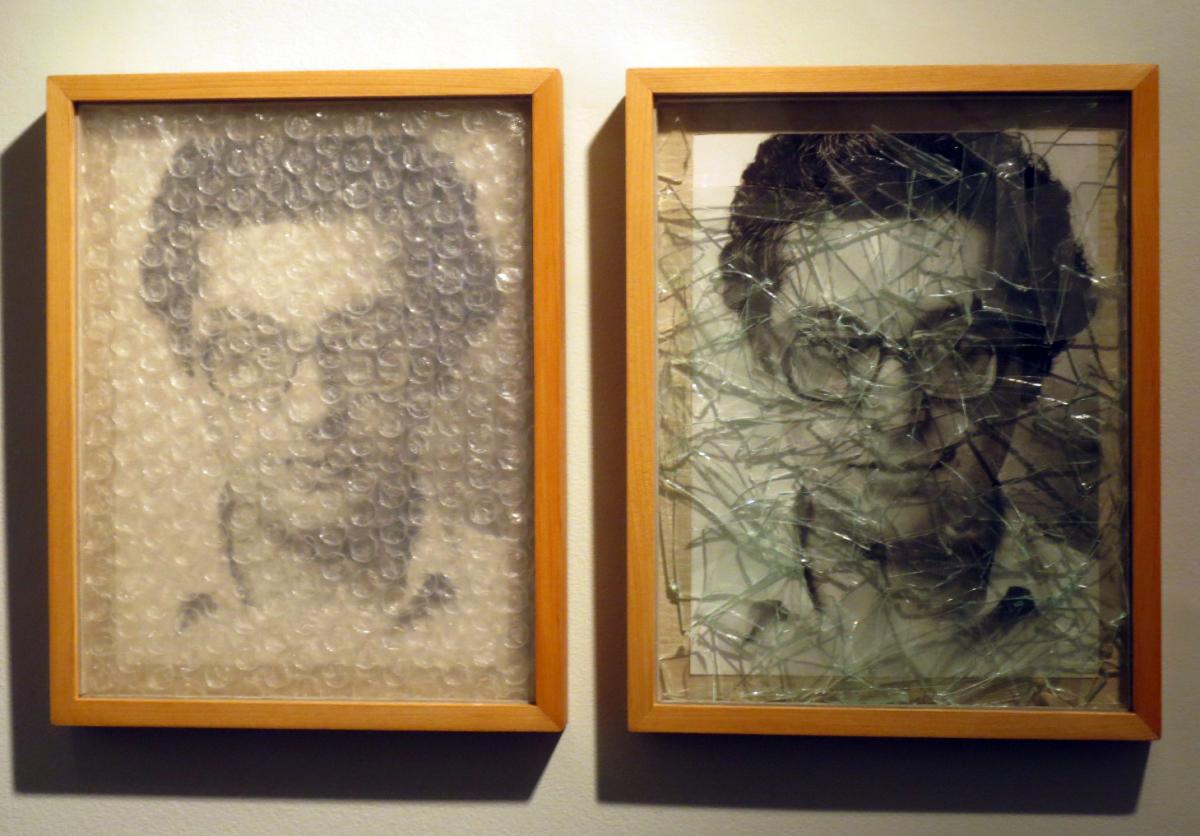 Habeus Corpus by Mario Fonseca
Frequently using his own portrait as a basis, Fonseca achieved a 'protective' anonymity by partially obscuring sections of his image. The irony is that these 'censored' images vividly addressed the very censorship against which he fought. The risks involved were huge, but Fonseca never flinched and called the series 'Habeas Corpus', which was originally exhibited at the renowned Galería Sur in 1982.
Mario Fonseca is a Peruvian by birth, being born in Lima, Perú in 1948, but has lived in Chile since was a toddler, studying and obtaining his BA in Visual Arts at the Fine Terrae University in Santiago. His work has been shown at 'Les Rencontres de la Photographie' in Arles, France in 2017, there was a substantial retrospective of his work, titled 'Reflejo Involuntario' (Involuntary Reflex) in the MAVI in Santiago and his works are included in important collections of Latin American Art in the USA and Europe.
This new exhibition at the Austin/Desmond Fine Art in London, shared with Chilean compatriot Mauricio Valenzuela, titled 'Fragmented Dialogues', shows that their art has finally achieved the international reach it deserves.
Mauricio Valenzuela's photographic images capture the pain of the memories and the trauma of living under Pinochet with the eye of a social documentarist. These powerful images, with figures suspended in mist, fog and low light, convey the impossibility of 'silencing the memories' and express the absence of identity in a very personal and powerful manner. Valenzuela's studies at the University of Fine Arts in Santiago were cut short by the military coup in 1973 when he was 22 years of age but, nevertheless, he pursued his studies in different establishments, even acquiring a degree in Theatre Studies.
A hitch hiking trip from the southern island of Chiloé to the northern Peruvian border had an enormous impact on his work and led, in the 1980s, to his membership of the 'Association of Independent Photographers (*AFI) and his contributions to the documentation of the dictatorship period.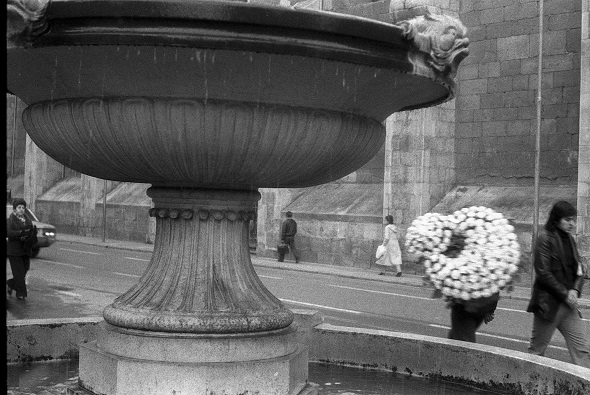 Mauricio Valenzuela
Valenzuela participated in a number of solo and group shows of Chilean Art, at the 'Círculo de Bellas Artes' in Madrid 1987, some of the more significant exhibitions of art from Chile of that time. More recently his work was exhibited at the Urban Impulses, Latin American Photography 1960-2016, as well as 'Les Recontres de la Photographie' in Arles, France. His photographs have also been exhibited in New York at the 'International Center of Photography' and form part of collections such as the 'Stanislas Poniatowski'in Paris and the Reina Sofia in Madrid.
Chantal Fabres, of CF-LART, who brought these artists to the attention of the curator, specializes in Latin American Art and describes what it was like for the artists to continue with their work: -
"Well, the artists did many different things, like Performance Art… and the regime didn't, understand them at all, it's the truth! It was an art that was so conceptual, expressing itself at such a complex level, that they would say: 'Oh those madmen!' and leave them alone. But in the case of Valenzuela, you are talking about going out into the streets and taking photographs, so that was far more dangerous, because you expose yourself… so they detained him. Meanwhile, Fonseca could work in his home studio. In his case, it was about understanding what he wanted to say about censorship in his personal, abstract way. It was like speaking in code and who was going to comprehend that? Certainly not the Military!"
As with Fonseca, themes of censorship & the 'absence' of identity are vital ingredients in Valenzuela's work. The images are almost abstract, in some cases, deliberately blurred or enveloped in mist. The figures are anonymous, they cannot be identified, they could be hiding or fleeing, but above all they remain hidden, unknown, like the memories of the pain of the trauma of Chile, that is largely still held in a state of suspended 'silence'. Chile has never had a Truth & Reconciliation' process like Argentina or South Africa, but these artists continue to find their own personal ways to open these doors at last.
FRAGMENTED DIALOGUES Art & Identity in 1980s Chile: Mario Fonseca and Mauricio Valenzuela is on at Austin/Desmond Fine Art, Pied Bull Yard, 68/69 Great Russell Street, London WC1B 3BN from 11 May - 30 June 2018.
for more information: http://www.austindesmond.com/exhibitions/current/fragmented-dialogues-ma...
A book which tells the story of the Amazon and its ports-towns near...