Jules Faife - Compás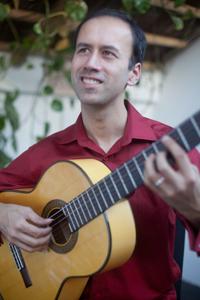 Launched at the Soho Jazz Club in London in July of this year, 'Compás' is a funky, sultry mix of flamenco with jazz.
Jules Faife was inspired by a big (40!) birthday and the legendary Paco de Lucia, inspiring him to mix World styles with flamenco melodies and rhythms. Having started out mimicking the blues guitar of B.B. King and Jimi Hendrix, Jules became interested in classical Indian and Zimbabwean music. He has collaborated at international festivals in Africa and Europe with artists Netsayi and Kudaushe Matimba. Jules prides himself on experimenting with new styles and composers from all around the globe. It is his fresh take on Flamenco mixed with Jazz that gives 'Compás' its unique style.
The cd is a varied tribute to both classical flamenco techniques (on the track 'Solo') through to the jazzy Tihai and soulful flute solos on 'Need for Love'. The album is a mix of talented musicians: Alex Wilson on piano, Kenny Chitsvatsva on drums, Fernando Pellon flamenco singer, Igor Outkine on accordion, Ross Hughes on flute and Rob Lavers on tenor sax. Having never considered a Flamenco and Jazz mix, 'Compás' delights with its traditional Flamenco riffs - showcasing Jules' talent on the guitar, mixed with a full bodied jazz accompaniment.
'Compás' is a joy for the ears and the soul. Catch Jules and his album on UK tour, with a live band featuring pianist Chris Jerome, bassist Matheus Nova and drummer Vancho Manoilovich.
You can purchase the album here:
https://itunes.apple.com/gb/album/compas/id708828040
http://www.amazon.co.uk/Comp%C3%83%C2%A1s/dp/B00F9XAVJ8/ref=sr_shvl_albu...
Catch Jules' trio at the Marsden Jazz Festival on 12th October
Cuba's natural setting, with its own historical and cultural...